Austrian Choir Heimatecho
The Austrian mixed Choir "Heimatecho" has been singing together since 1980 when a group of members of the Austrian-Canadian Society got together to rehearse some traditional songs for the Christmas party at the newly opened Austrian-Canadian Cultural Centre. Over the years 30 singers joined the choir, which performs at various club functions and also sings at senior homes and hospitals. New singers are always welcome to join the choir. Rehearsals are on Thursday evenings at 7:30 p.m.
For more information please call Frieda Foidl 403 246-0259.
Click for Heimatecho's 38th Anniversary celebration
Click for Prairie Saengerfest
Click for Heimatecho's 37th Anniversary celebration
Choir Report
Dear Friends and Members:
Our summer has been very changeable, with some rain and warm weather. We all had a great time off. Looking back, our choir performed on April 27th on our 38th Heimatabend together with the Swiss choir"Heimattreu" and the great Schuhplattler dancing group" Enzian". The evening was a great success and the people enjoyed all performances, the delicious food and the dancing band Jana and Danny at a full house.
Heimatchecho was invited by the Kelowna "Liedertafel" to their special May concert and Spring Dance. This bus trip was a ride into spring time, Phillip Park is not only a great bus driver, he also has a beautiful tenor voice. We left Friday morning through the beautiful mountains and scenic green meadows, arriving in the evening to have some very good food at the "Asian Pearl" Restaurant. After a great dinner we all took a short stroll along the Okanagan Lake. Saturday morning after a good rest and nice breakfast we visited the winery "Dirty Laundry" with wine tasting. After several hours we went back to the Kelowna Inn to get ready to practice with the choir Liedertafel at the Parkinson Centre, where we later had our performance. It is a wonderful and exciting moment to bring and showcase our traditional Austrian music to Kelowna, B.C., and sing together with the excellent singing choir "Liedertafel". Music brings people together, socializing and making new friends. After enjoying the dinner and dance it was time to say good bye. We left Sunday morning and mad a bus stop at the Dutch Dairy Farm and Ice Cream Shop. We also visited the historic site, where the last spike of the railroad construction between Alberta and British Columbia was hammered in, at a site called Craigellachie on November 7th, 1886.
Out last stop was in Canmore before we arrived back in Calgary. Thanks Phillip for a smooth bus ride and educational experience!
Our annual choir BBQ was at Claudia Bosch's house and we all enjoyed the steaks grilled to perfection from Heinz and Gerhard!
Choir practice starts September 6th 2018!
Sincerely,
Frieda Foidl
Saengerfest 2017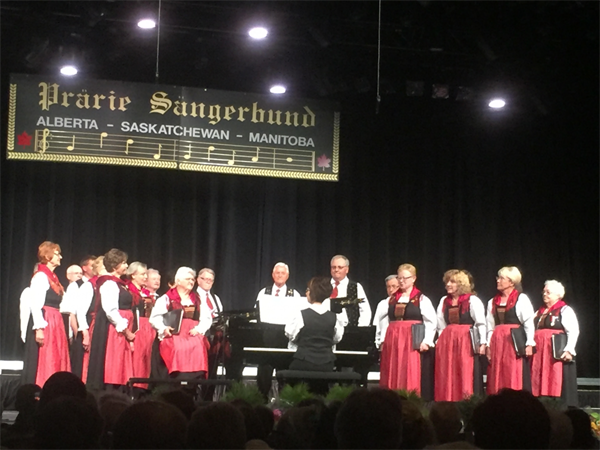 * * *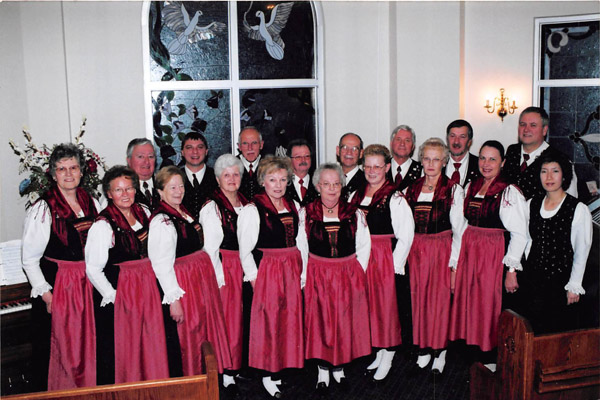 * * *